So….The Pet Parlour is finally legitimate!
We got a Dog….and how lucky we are to have her.
Here she is with her brother (who has gone to live with my brother and his family)
Aren't they beautiful!!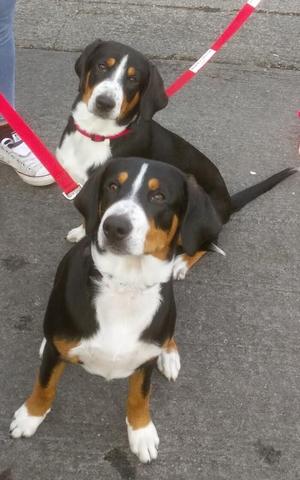 She's a beautiful Entlebucher Sennenhund also called the Swiss Mountain Dog. A herding dog related to the Appenzeller, the Bernese Mountain Dog, and the Greater Swiss Mountain Dog, the Entlebucher is the the smallest of her group.
She will reach an adult height of roughly 42-50cm and a weight between 20-30kgs.
They live for anywhere from 11-15 years, an average age for a purebred.
She is 5 months old, extremely smart and loving in equal parts.
We have been crate training her since we got her and she's doing great.
She even went into her crate for a snooze on her own after only 3 days training!
Kaya asleep in her crate: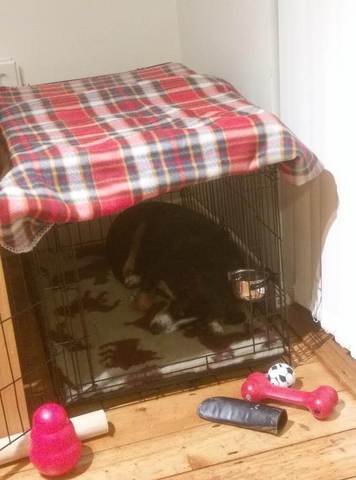 When she came to us she was fed on dry kibble, so we switched almost immediately to Raw…..petparlour.ie/raw-dog-food-ireland A phasing in/out period is advisable but some dogs do fine on a cold turkey quick switch, it really depends on how confident and aware you are with/of your Dog.
Here she is with her first ever Raw meal: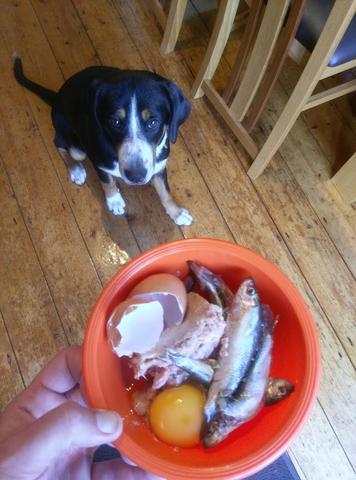 She went from a large bowl of melting ice-cream like poop, to a small, solid, dark poop which is VERY easy to pick up from the grass in the garden, a BIG bonus with children in the house.
Currently, she is on 6% of her body weight of Raw per day, split into 8 hour intervals.
(We may change this to every 12 hours as she gets older)
Pups are fed on a weight to age sliding quantity scale.
So at 6 months the percentage of food to body weight will reduce to 5% the next month 4% then 3% to level off at around 2.5% by adulthood. This all subject to activity (calorie burning) of course.
Apart from being balanced, meaning the correct amount of meat muscle to offal to bone, growing pups meals need an added amount of fatty mince of some type, which helps bulk up the young pups diet.
So far so good (with a sigh of relief)
We will keep you posted on her progress!