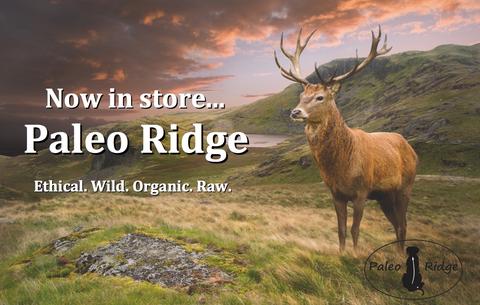 As most of you know already, The Pet Parlour is going through some changes. Most importantly, we are developing our fresh food for pet's section. We already stock various flavours of Nature's Menu (UK raw dog food) and a locally sourced Irish raw dog food and are now delighted to announce that we have secured Ireland's only supply of Paleo Ridge Raw Dog Food.
This is BIG news!
Paleo Ridge stand out from all other raw dog foods in that it is all organic and all ethically sourced. For example, their duck is not intensively farmed, barn reared duck. Like their venison, it comes from the wilds of Britain, brought down quickly by gun. The butchers remove the breast meat for use in the human sector and the entire rest of the animals (wings, drums, neck, carcass, head and some organ) go into the mix. It is the same with their partridge and pheasant. Their chicken is organic too, fluttering around outside during the day.
Their beef and lamb come from the normal farming sector but they are organic. This means they were grass fed and chemical usage is extremely low. Moreover, they had as good a death as possible.
The owners of Paleo Ridge are extremely concerned for welfare and so their animals will never, ever come from the "un-stunned" sector, where so much beef and lamb now originates (did you know 1/3 of Irish sheep are not stunned before they are killed? It is barbaric).
The Paleo Ridge Range costs between €4.95-€6.50 per kilo.
As if all this wasn't enough next week we will have a stock of wild Irish pheasant, Irish outdoor pig and Atlantic Sardine in store.
Fresh food is as important for our pets as it is for us, and The Pet Parlour now has the best variety of raw dog foods in Ireland.
We had a number of Paleo Ridge to choose from but we are beginning with their "complete" ranges first. You will now find in store:
LAMB TRIPE & ORGANIC CHICKEN COMPLETE (70% lamb tripe, 20% Organic chicken with bone, 5% beef liver, 5% beef kidney)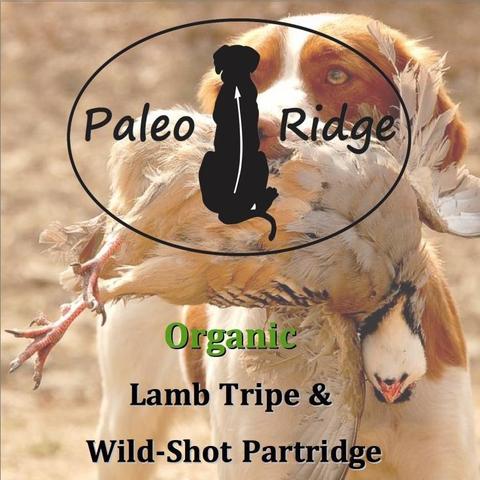 WILD PARTRIDGE & LAMB COMPLETE (60% lamb tripe, 30% partridge with bone, 5% ox liver, 5% ox  kidney/spleen)
BEEF TRIPE & ORGANIC CHICKEN COMPLETE (70% Beef tripe, 20% Organic chicken  with bone, 5% Beef liver, 5% Beef kidney/spleen)
VENISON, OX & DUCK COMPLETE (20% venison, 40% Ox tripe, 30% Duck with bone, 5% ox liver, 5% ox kidney/spleen)