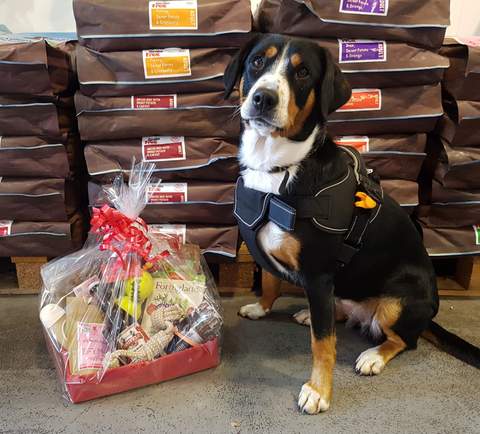 We're going Christmas crackers
It's the most wonderful time of the year. Are you feeling Christmasy yet? The team at the Pet Parlour are. We are finalising our letters to Santa Clause, buying the last of our presents and will soon be putting up our Christmas tree.
The kids are really excited about what Santa will bring and the adults are looking forward to chilling for a few days at home. Although it won't be all chilling as Kaya will be keeping us active during the holiday season. It's the second year that we have had a dog at Christmas and she has been a great addition to the family. Last year, we marked her first Christmas with a toy slinger. And, unlike the kids, she's still playing with her toy! Aren't dogs great?
This year, we've been considering one of our lovely hampers. 
Not just for Christmas
I'm cautious about saying that. I know that there are lots of people who want a pet dog and the thought of opening a box on Christmas day to find a cute puppy in a bow will melt the heart of the meanest Grinch. But, they're right a dog is for life, not just for Christmas.
I can understand the appeal of a getting a new dog for Christmas but it's a very hectic time for and can be quite overwhelming, even for those of us who've had a good run at it. Imagine how it must be to be a new puppy, surrounded by new and excited faces, with wrapping paper and Christmas smells at every turn. So, while we love having Kaya at Christmas, we love having her every day in between.
We care for, play with and feed Kaya 365 days of the year. It's a full-time responsibility, and we share in that all year round. But, on Christmas day, we can take time together, all the family – including Kaya – to get out for a walk early in the morning before sitting down for Christmas dinner.
As we chow down on some festive favourites, we will be making sure Kaya has her own Christmas dinner with some turkey feet and turkey necks.
Treat time
Once we've had time to digest, it will be out again for another quick run around the block before settling in for an evening movie. Kaya's not just great company, she's also a great motivator!
Is there anyone among us who doesn't overindulge at Christmas? No? I didn't think so. Every year I say I will be better, and every year I somehow find myself eating the last of the Roses: the ones nobody else wanted but I just need one more bit of chocolate! And there's nobody to blame but myself. But, when it comes to Kaya, we have far more willpower. She doesn't decide how much she eats on Christmas day, we do. And, while everyone and every pet deserves a treat on Christmas day, we need to be careful about how much we feed her. Maybe I should only give myself a treat every time the dog gets one. It might work out better for me in the long run.
If you're looking for gifts that set Christmas apart from the rest of the year, we do have a specialised gift hamper for special occasions with treats and toys for dogs.
Family fun
We will also be visiting family for Christmas, which means Kaya will get to hang out with her brother Bailey for a few hours. All the families coming together. Ours is a particularly big family, with lots of brothers, sisters, in-laws and grandkids. It's a rowdy bunch when it gets together, so we will be keeping an eye on Kaya. I'm particularly vigilant about chocolate at Christmas. Those Roses I mentioned, while I would never let them go to waste, not everyone is so diligent, and chocolate is extremely hazardous to dogs.
Staying safe
Not to sound like the Grinch, but there are lots of hazards this time of the year. We are very lucky that Kaya is a mild-mannered dog. She doesn't unwrap the presents under the tree or pull on the Christmas lights, but not everyone is so lucky. If you're dog can't wait till you open the presents to see what's inside the fancy paper, you may have to keep them in a box or on a shelf, somewhere they can't get their paws on it. It's always good, pet or not, to keep your wires tidy. Beware of fake snow, you don't want your dog eating plastic flakes for breakfast and don't forget the candles. A friend told me recently that her Alsatian had knocked over a lit candle in their living room. The poor pooch was just turning around but he's a big boy and doesn't realise just how big he is, so easily done. But something that's worth watching out for! My last bit of cautionary advice is this, if you have kids and they are getting toys with small parts (Lego is top of my list) be careful of opening it around pets. Keep it on the table in a box where possible, so you don't have to go looking for it in unlikely places the next day (if you know what I mean).
Happy Christmas
However you spend your day, we want to wish all our Pet Parlour customers and blog readers a very happy Christmas.
If you're looking for gifts that set Christmas apart from the rest of the year, we do have a specialised gift hamper for special occasions with treats and toys for dogs. We are giving away one Christmas Hamper this year, all you have to do is share this Post on Facebook, and your name will be entered into the draw.
Good Luck