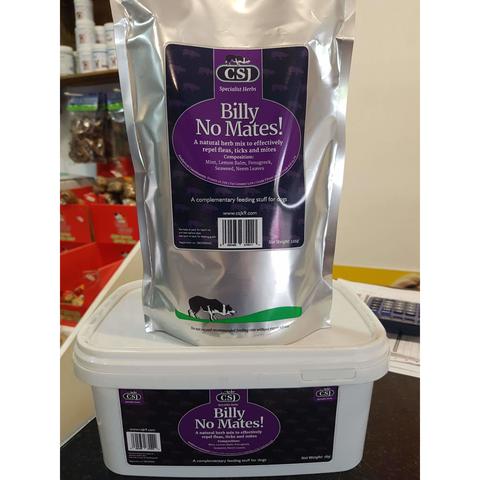 A Natural Holistic Flea Tick & Mite Repellent that actually works!!
Many moons ago myself & my friend and our respective girlfriends decided to head on holiday to the south of Turkey. On the first night, all dressed up to head out for dinner, we sat in the hotel foyer while waiting for our taxi to pick us up. I realised my 3 companions were having an uncomfortable time dealing with the rather large Turkish mosquitos. Large red hive like patches were suddenly appearing on all of their exposed areas of skin like billy-o. I was bite free. The mosquitos were landing on me but decided that my blood wasn't good enough for them! On discussion as to why they refused my blood we deduced that my daily dose of garlic tablets I had taken for the previous couple of months or so, had done enough to fend them off. Just like it does to Vampires.
Billy No Mates protects your Dog in the same way.
The completely safe herbal blend works its way into the Dogs system and….
Fends off Fleas, Mites & Ticks!
About 6 months ago Kaya somehow managed to pick up some of these fleas. I wasn't happy to say the least (I HATE fleas). She meets a lot of Dogs here in the shop and of course on our morning runs in our local park.
Reluctant to use any of the conventional chemical based flea solutions, my search led me to Billy No Mates, a natural herbal Flea, Tick & Mite repellent and we decided to give it a try. It took a couple of weeks to kick in (we also did a complete Diatomaceous Earth dust down, on Kaya herself and in the areas she frequents in the house as well as washing all of her bedding and blankets) but finally she was clear and she hasn't had a single flea since.
Billy No Mates Works!